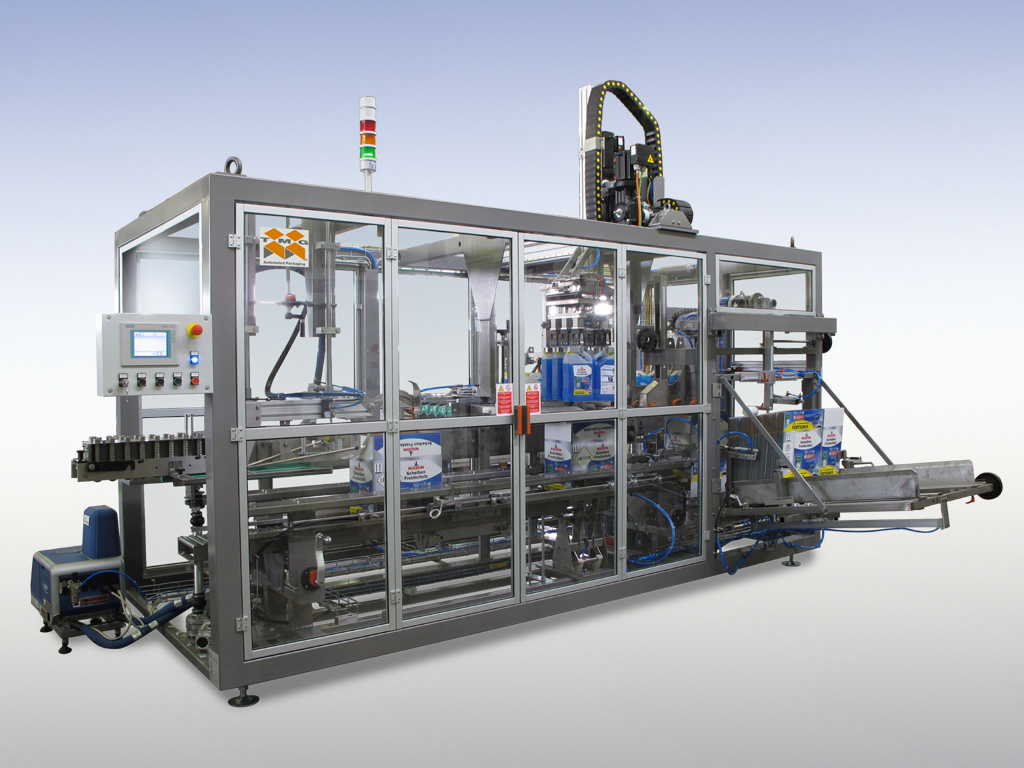 TMG COMBI 20
Cartoning station of new generation, with integrated erecting, packing and sealing sections for RSC cartons. Compact footprint designed to work with different types of products.
Highly reliable
The high reliability of the monoblock is guaranteed by a simple movement system optimised with the employment of reliable components and Brushless motors for the main movements.
Carton opening
Cartons storage is placed perpendicular (90°) to the cartons direction leading in order to speed up the working cycle. The carton forming is realised during the carton outfeed from the magazine and shaped guides are used.The carton erection is carried out by a mobile arm equipped with suction cups. This system allows a quick and safe opening also of very difficult cartons.
High output
"Twin" machine version, foresees a particular design of monoblock which allows the installation of two pick up equipments suitable for the product type to handle, in order to increase the final machine production, achieving the output of 1200 cartons/hour.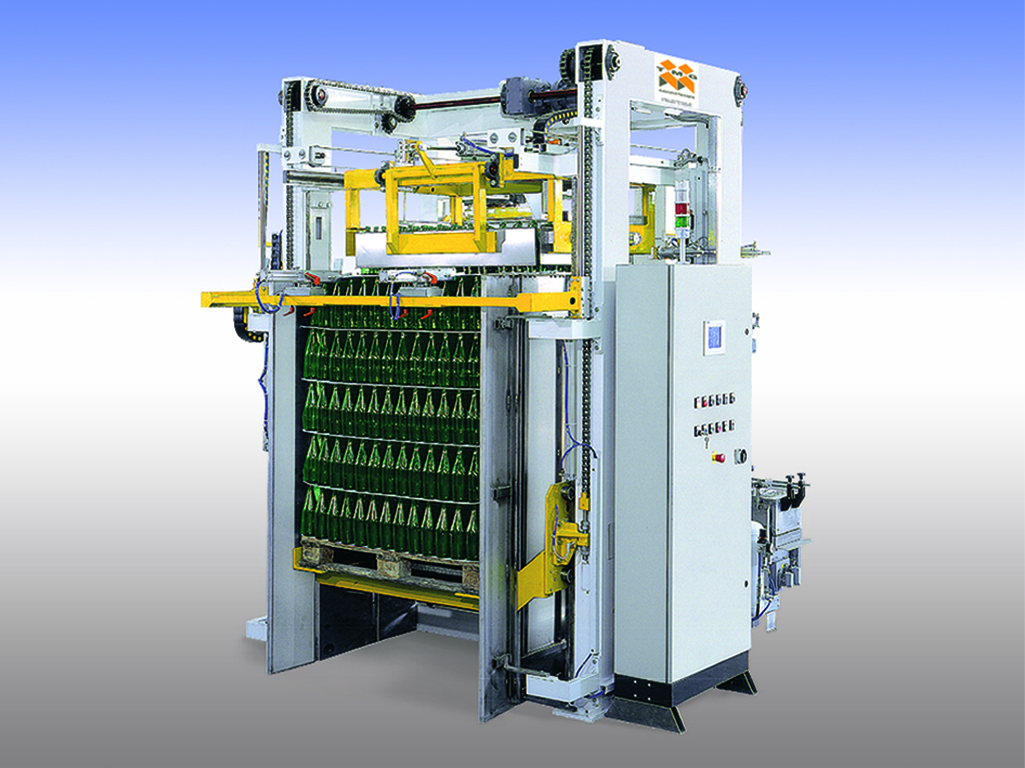 TMG VEGA 60
Automatic sweep-off depalletiser for complete layers of product, composed of product support walls, double mechanical system for vertical movement of the pallet and the motorised layer transfer table.
Automatic pallet infeed
The machine can be supplied with an automatic pallet infeed system, composed of a chain belt where it is possible to load up to three full pallets so that the entire work cycle can be automated. The system is supplemented by platforms for film removing operations before the depalletising cycle.
New system for layerpad blocking
The layerpad is held by an automatic retractable blocking system, which holds the layerpad during the sweeping off operation.
Compared to the gripping pincer device, this system does not require any adjustment.
Adjustable discharge height
The height of the product infeed belt to the filling machine is not a problem any more. Thanks to the mobile table, the machine can depalletise at every height ranging between the minimum and maximum pallet loading level.
In this way the machine can be easily fitted to different production lines as it is no more necessary for the discharging table to be at the same level as the lines themselves.
Automatic layerpad removal unit
The automatic work cycle of the depalletiser is completed by the automatic layerpad removal unit. It can be positioned both on the left and on the right side and, in certain cases, also in front of the machine, assuring in this way a high level of flexibility.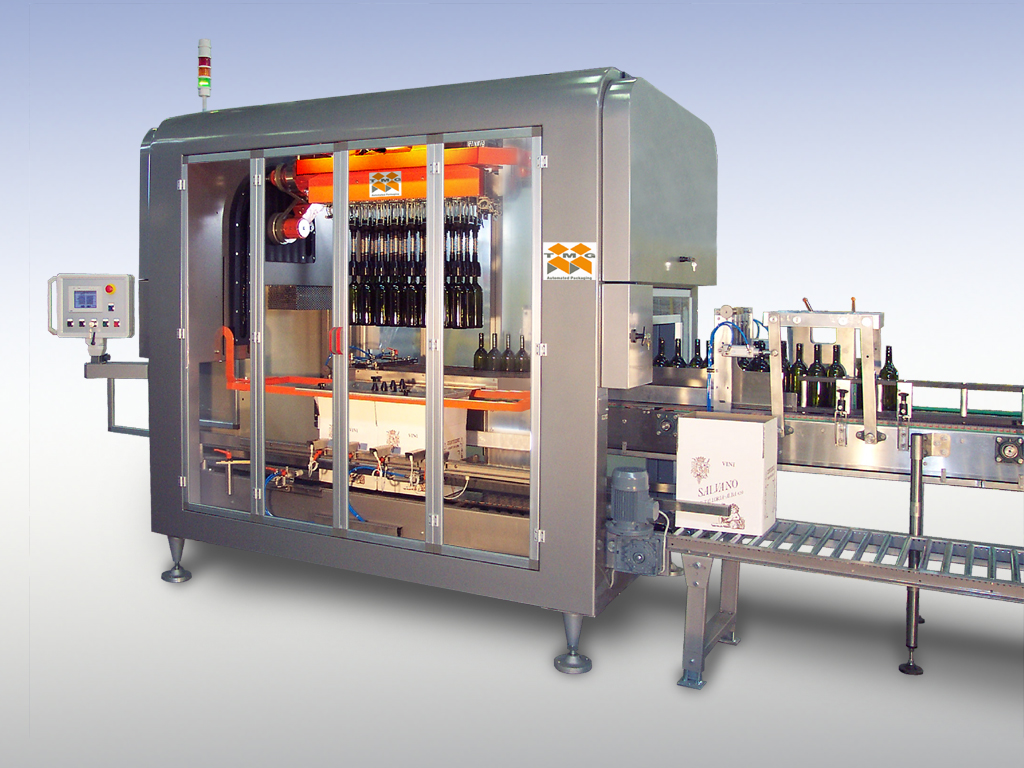 TMG META 2/5
Automatic packer designed to receive and arrange containers arriving from the filling section, pick them up in a desired quantity and format and place them in cartons or crates.
Reliable
In the inner structure of the machine there is a pick-up system, that slides on side guides. The pick-up system moves with Sew gearmotor operating with inverters which control speed during different phases of working cycles and ensure a smooth sinusoidal movement thanks to a constant electronic control on axles. The lever drive system is designed in order to stand mechanical stress due to hard work loading and it reduces movement maintenance. The machine stands out for its technology, level of automation and reliability. The work cycle is managed and controlled at every phase by P.L.C.
High production rate
The machine is supplied with one or more pick-up devices on an appropriately dimensioned structure to adapt to the maximum possible needs of each individual customer.
Different pick-up system
For standard bottles of wine, oil, water and liqueurs, pneumatic "bell" pick-up heads are normally used, which apply through a membrane, an adjustable pressure to the neck of the bottle, to prevent them dropping when they are picked up.
For standard wine or beer bottles and by means of a touch screen set up, a single auto-dimensioning pick-up head unit for 2×3 and 3×4 carton formats can be offered to work with a range of bottles.
For PET and PVC bottles, mechanical pincer pick-up heads with electropneumatic control are normally used, where each pick-up head system is designed for each individual type of container.
For cans, vacuum or magnetic pick-up heads are used.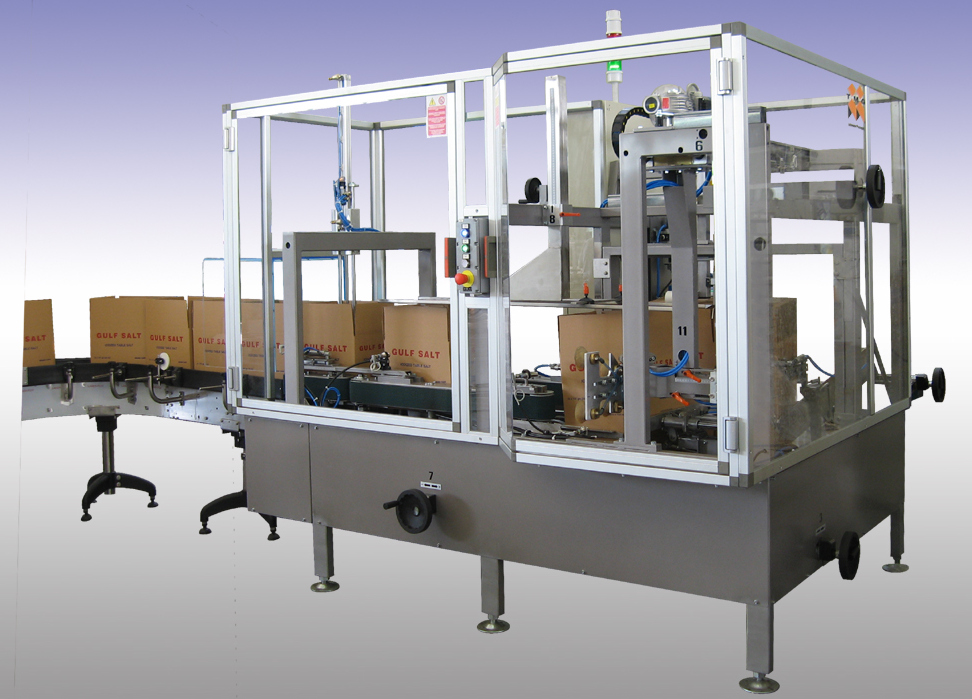 TMG Formec Speed
Vertical carton erector equipped with lower flap sealing with adhesive tape or hot melt. Careful and simple manufacturing, capable of shaping a wide range of carton sizes.
Wide range of carton sizes possible
Due to streamlined and accurate construction, a medium production rate at a high level of reliability is possible for both small and large cartons and sizes in between.
Format change in 5 minutes
Due to the user-friendly adjustments in easy to reach positions the machine can quickly be changed to work with a new cartons size, particularly useful if a large number of cartons sizes are used.
Carton infeed whilst machine is running
The carton magazine is designed in such a way as to allow the carton blanks to be placed in the magazine whilst the machine is running.
Fault-finding for quick resolution of any difficulties
The machine programme has a faultfinding diagnosis to help solve rapidly any problems should they occur.