"WE GOT IT COVERED"
NO MATTER WHAT you need to ship, store, protect or make visible, we make the shrink wrap equipment that gives you the perfect solution. No matter what your product is, our shrink wrappers are designed to suit your needs and provide an enduring solution to packaging your products efficiently and economically.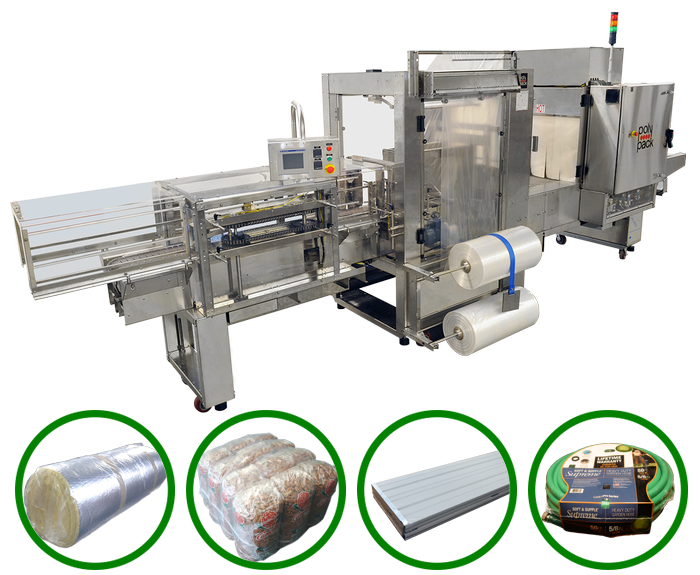 Polypack FIL SERIES
Polypack's FIL series machines are intermittent motion total closure shrink wrappers that use a forming head to wrap products with rectangular or round profiles. The FIL can be designed to run everything from small trays to 12 foot or longer rolls. The pack is sealed on both sides and shrunk for increased product protection. Total closure wraps are more resistant to mishandling and ware house conditions, and they present a nice, continous surface without seals obscuring the graphics and branding.
Polypack's FIL series shrink wrap machines are designed to provide complete enclosure of bundles with polyethylene, polyolefin or PVC films. These machines can also be designed to handle print-registered film for retail packaging. These machines are available at speeds of up to 25 cycles per minute, and are available in both horizontal and vertical sealbar configurations. Automatic collation modules are available for orientation, rotation and stacking.
Polypack WRAPAROUND CASE PACKER
The WR series machines are Polypack's high speed continuous motion and intermittend motion wraparound case packers. With corrugated wraparound packaging, a sheet of cardboard is die-cut and folded. For a traditional RSC the flaps, overlapping each other, are located at the sides, and the case is generally filled from the side. Wraparound packaging machines significantly reduce the amount of corrugate overlaps while still providing a strong case that delivers superb strength for palletizing and distribution. By eliminating redundant overlaps, the wraparound case delivers a huge amount of savings on materials when compared to a traditional RSC.
Polypack's WR series wraparound case packers deliver the pack versatility to run various configurations including multi-layer formats, all on the same machine with minimal changeover