Your requirements determine our solutions. Meypack offers you customised solutions incorporated into Meypack's established modular machine systems. We see ourselves as a reliable supplier of machine systems with over 60 years of experience in the market. Besides having expertise in packaging and palletising technology, Meypack has successfully positioned itself in the existing branches, enabling us to understand the requirements specific to the respective industry sectors and integrate them into our solutions. Thanks to our efficient process and project management we can significantly reduce production and commissioning times. As a result, the downtime for your production is minimised.
Meypack is more than a machine manufacturer.
In Meypack, you find a competent and motivated partner with many years of experience – one that is able to provide support throughout your projects and help you successfully achieve your production goals.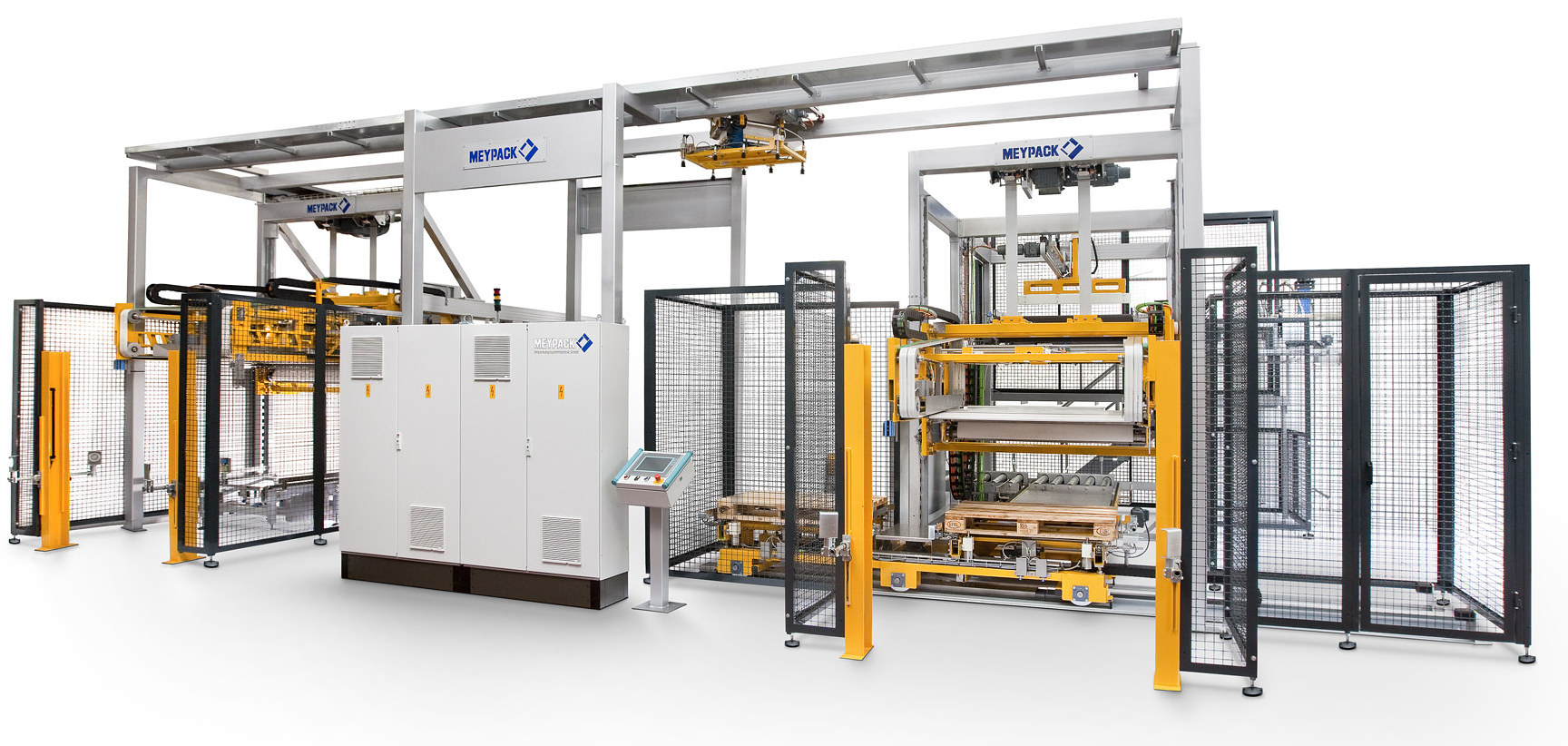 Meypack Palletising technology
To palletise and depalletise
Drawing on many years of experience, Meypack is a reliable and successful partner in the area of palletising and depalletising technology. Based on your specified task, we configure the most suitable palletiser or depalletiser to carry it out. Meypack's modular system offers not only a variety of output capacities but also many additional modules that you can operate easily and efficiently from within the central control system.
The Meypack palletisers of the PK Series are layer palletisers used to palletise secondary packaging such as cases, trays, shrink packs or crates. The depalletisers of the DL Series are designed to depalletise layers of empty glass containers and cans. Thanks to the compact modular construction of the PK and DL Series, these are available in an extremely wide variety of executions – to meet the specific needs of the customer.
In cooperation with our long-term suppliers, Meypack offers a complete solution for your palletising line, including transport conveyors, pallet stretchers and pallet labellers.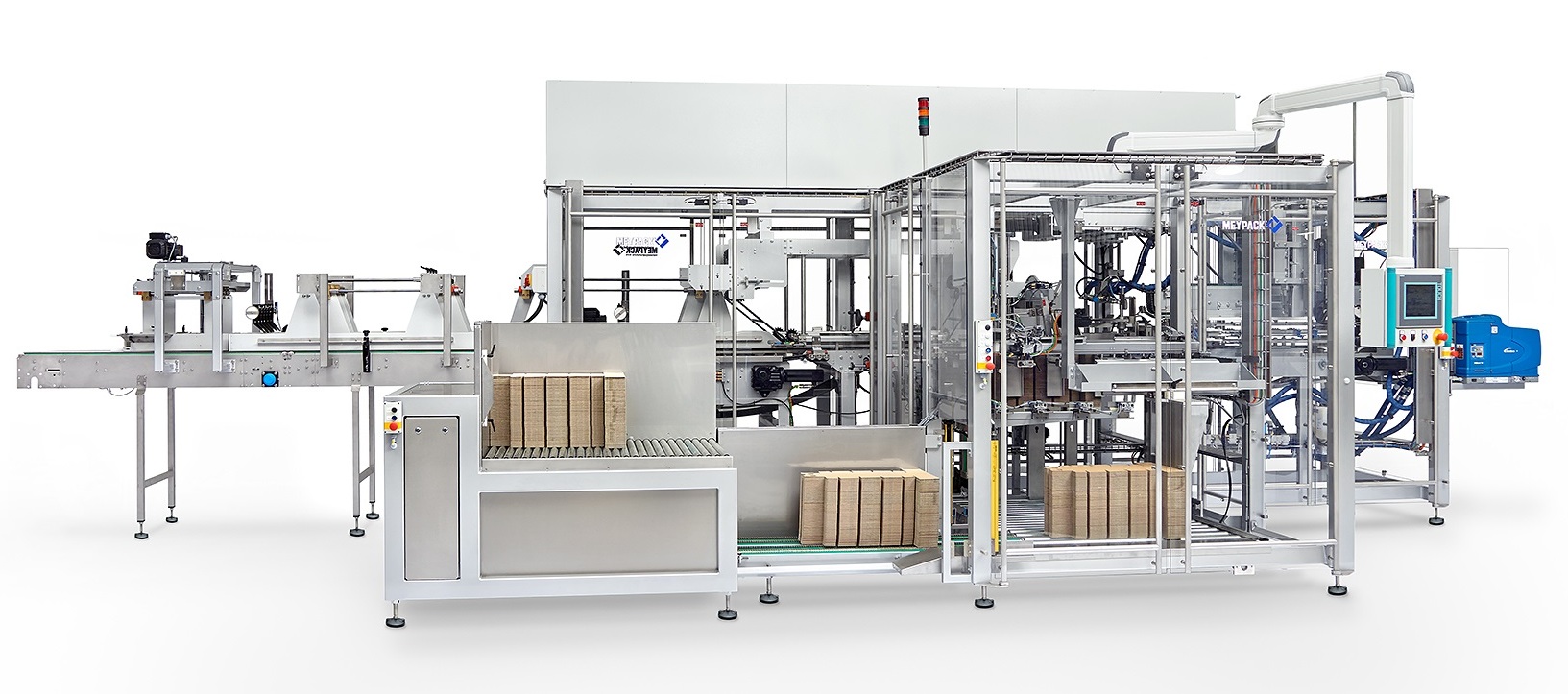 Meypack VP400
Maximum flexibility, compact design, stacking applications and the lowering principle are characteristic of the Meypack VP400 machine series.
The VP400 series is designed to pack products into wrap-around cases, trays and trays with lids in particular.
"Combined
Depalletising, packaging, film-wrapping and palletising technology – Meypack offers you a tailor-made packaging line solution."
Meypack stands for efficient packaging lines and is happy to provide consultation to you.

Meypack Shrink wrappers
The Meypack shrink wrappers of the SW Series are available as both single and double roll shrink wrappers. Machine types of the SW Series that utilise the single roll technology stand out first and foremost due to their high productivity and simple handling. In addition, these types of machines enable the use of printed film in the entire output range. Both machine types are well suited for both shrink wrapping trays as well as loose products. They can be combined with Meypack's packaging machines.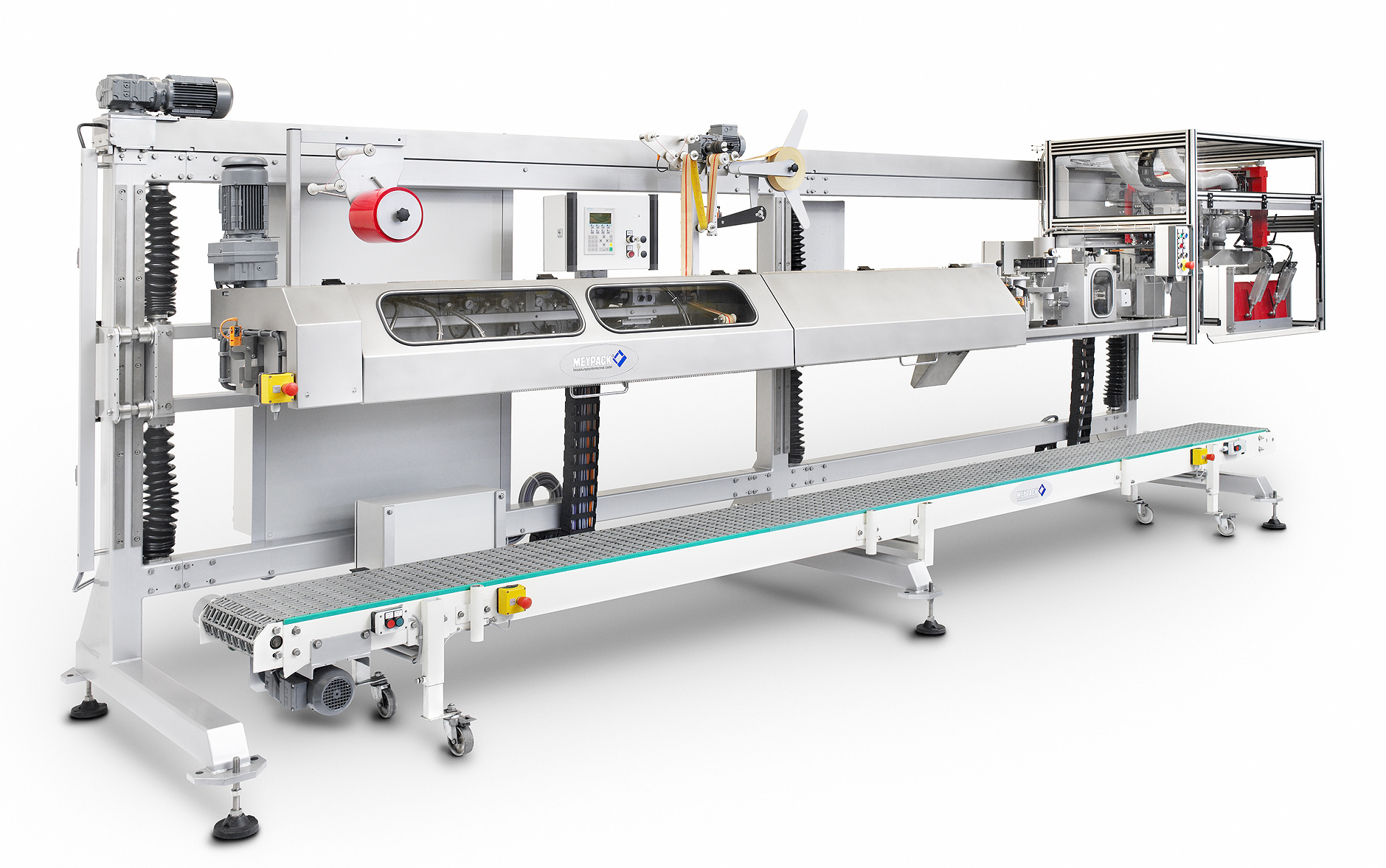 Meypack Bag closing technology for paper bags
With its FTS Series, Meypack offers bag closing machines for open paper bags or sacks of all sorts. The FTS closes paper bags hermetically, the FTS 800..1800 machines seal paper bags containing plastic inner liners to ensure they are sift-proof.
The FTS closure (Fold and Tape Sealer) is a double fold closure sealed with a sealing tape that is much more durable than traditional bag closures. It is the most modern and user-friendly bag closure. In particular, the integrated tear-off strip applicator enables the production of packaging the is easy to use for the consumer. The FTS closure can be opened without any tools and without damaging the bag. As a result, no shreds of paper end up mixed in with the contents of the bag. Strippable bags (in the case of paper bags with plastic liners) make is easy to separate the waste without any additional effort.
plastic bags
Meypack produces a wide range of DOBOY System continuous motion sealing machines to reliably and hermitically seal plastic bags.
The bags are clamped in the seal area between PTFE-coated steel conveyors/belts and guided through a heating area. The heating bars are set precisely to the required temperature, enabling a constant sealing process that can be customised exactly for the bag's material. In the following steps, the seams are cooled down via either cool water bars or cold air pipes. Additional options allow for adapting the machine to meet the most challenging procedural requirements, such as when sealing bags containing dusty filling goods.